Search found 29 matches
by jan__

Wed Apr 28, 2010 7:53 pm
Forum: MultiScatter
Replies: 10
Views: 12733
Thanks for the release and the fix
by jan__

Tue Apr 06, 2010 2:10 pm
Forum: MadCar
Topic: Betatesting started!!!!!
Replies: 26
Views: 26882
I think that we are all "fighting" with configuration and figure how to make all things. Some test will come out soon

How we can setup the suspension?
Why is the chasis so short (only 2,4m) in the tutor scene?

PD: No license issues here (win7 64bit)
Regards
by jan__

Sun Apr 04, 2010 11:45 pm
Forum: Beta testing (finished)
Topic: Beta builds.
Replies: 8
Views: 11877
There's no recompilation necessary for 3dsmax2011. If a plugin works in 2010, works in 2011
by jan__

Sun Apr 04, 2010 4:20 pm
Forum: MadCar
Topic: Betatesting started!!!!!
Replies: 26
Views: 26882
The scene you are loading must require multiscatter, so the problem is with multiscatter license, not madcar. I also have my multiscatter license "corrupted" (I should request a new one), but if you unload the plugin the scene works
by jan__

Tue Mar 23, 2010 12:55 am
Forum: MadCar
Topic: MadCad 3.0 betatesting
Replies: 20
Views: 25500
Very nice test. In some parts the tyres trails looks too dark for me. It's a controllable mask?
Can be used to simulate accidents? Example:
http://www.vimeo.com/2035204
(from 0m20s) Deformations are made by hand, I'm asking about the car physics only
PD: you have a PM
Regards
Alejandro Suárez
by jan__

Fri Mar 19, 2010 3:04 pm
Forum: MultiScatter
Replies: 4
Views: 7130
I'm almost sure that ask the same thing every week does not make them to work faster. I want to try it also, but it's better to try some stable version than try a buggy one an then complain.
by jan__

Tue Dec 01, 2009 2:25 pm
Forum: iModels
Replies: 5
Views: 41727
You can use standard features of 3ds max for that. Create ->Ulilites->More->Bitmap/Photometric Paths or Create ->Ulilites->More->Recourse Collector or use File->Asset Tracking->Paths Yes, but bitmap/photometric paths forgives some times many map types (like hdrs and ies). Asset tracking works well,...
by jan__

Fri Nov 27, 2009 3:34 pm
Forum: iModels
Replies: 5
Views: 41727
I have an script that could do this work:
Change paths 0.5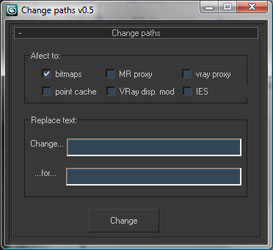 You can download
here
Regards